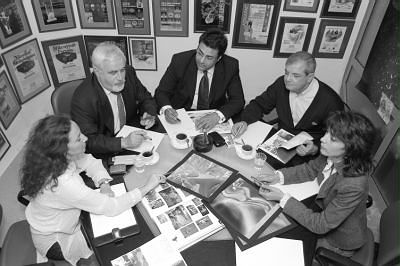 MAIN PRINCIPLES
| | |
| --- | --- |
| | |
| | To be marketing oriented in our thinking. |
| | To base all our work on research. |
| | To make use of international know-how. |
| | To strive for creativity which leads into sales |
| | To create excellent ideas which translate into sales |
| | To provide complete services to the client. |
| | To care about people. |
| | To build long lasting relationships with our clients. |
| | To believe that cooperation creates power. |
| | To create a unique brand chracter for each brand or corporation. |

The agency believes very strongly in experience and experties. Therefore, clients are served on a personalized base by groups made up of experts in their special fields.

In this system, a group is made up of a copywriter, an art director, a media planner, a research specialist, and an account executive are directly responsible for the client.

The group effort system allows the clients' demands needs to be better comprehended and better served.

This nucleus system works perfect because each person within the group reports to the department head, resulting in a well balanced organizational structure.